Policy on Developing and Revising Policies and Procedures
All Zucker School of Medicine (ZSOM) policies (herein after referred to as administrative policy/policies) and any accompanying forms must be reviewed and recommended for approval by the ZSOM Faculty Council to the dean. Initial approval of such documents must be obtained by the appropriate stakeholder standing committee prior to referral to the Faculty Council for its established approval. 
All policies that affect students and faculty of the School of Medicine, but do not involve patient care, are approved by the president of the university. In all matters regarding patient care, the faculty and students of the School of Medicine are governed by the policies of Northwell Health, where patient care is delivered.
Administrative policies and any accompanying forms will be reviewed at a minimum of every three years (or as otherwise required).
Policies apply as of the date posted on the website.
For events occurring in a given time period, the policy that was in place at the time the events occurred is the policy applied unless otherwise specified.
To the extent that Hofstra University has a policy, it applies and overrides any ZSOM policy.
Bylaws – The rules and regulations enacted by an association or a corporation to provide a framework for its operation and management; i.e. the written rules of conduct of an organization.
Policy – a mandatory high-level overall standard to establish a course of action and/or enterprise-wide accepted strategies and objectives.
Procedure – provides details on how to implement an existing policy.
Guideline – suggested best practice that sets out a preferred process to follow in a particular set of circumstances to reach certain outcomes.
Stakeholder committee - the stakeholder committee will, in most cases, be one of the standing committees outlined in the ZSOM Faculty Bylaws, including but not limited to the Admissions Committee, Curriculum Committee, Faculty Appointments, and Promotions Committee, Student Advancement Committee, Student Council. In rare cases, other ad hoc committees may be formed by the dean to ensure appropriate stakeholder representation for specific policies that fall outside the jurisdiction of the standing committees outlined in the ZSOM Faculty Bylaws.
Process Steps for Standardized Review & Approval:
1. Normal Review
The recommendation for approval of new or revised administrative policies and any accompanying forms will be referred to the appropriate stakeholder committee, and there it will begin the review and approval process outlined below. The Faculty Council reviews and provides feedback on behalf of the faculty in all academic departments.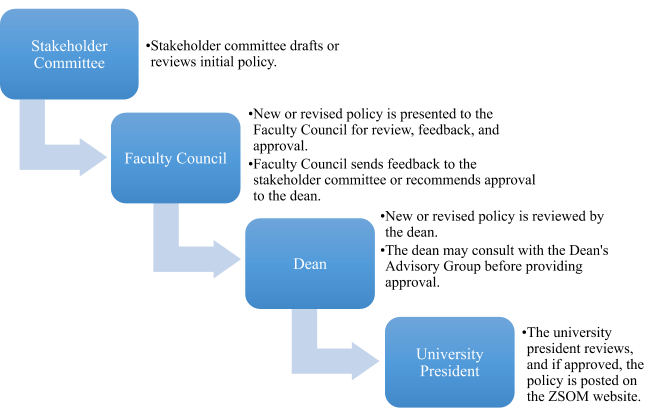 2. Expedited Review
There may be circumstances where approval of a policy is needed but there is not enough time to undergo the normal vetting process. During such times, expediting the approval process may be necessary and can be accomplished by following the steps below. This process allows the stakeholder committee to have an approved document in hand, while allowing school and health system-wide review for eight weeks post-approval. Any egregious issues identified during that time can be corrected prior to final approval being granted.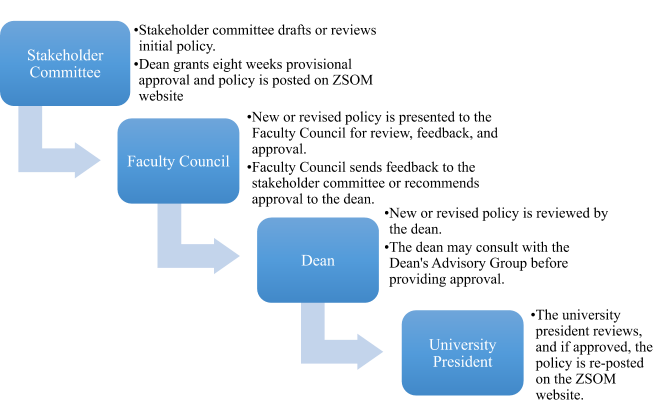 Storage of Final Documents & Archiving:
All approved ZSOM policy documents shall be saved in Hofstra's shared drive folder: S:\Medicine_Compliance\Policy_and_Procedures as well as posted on the ZSOM website. Saving and posting the documents is a job function of the Dean's Office. Once a policy has been revised, approved, and posted to the website, all existing/older copies/versions of said policy must be archived. All approved and archived policies must be retained permanently on the shared drive.