Research Opportunities
Zucker School of Medicine students work with leading clinician-scientists in a variety of research settings and institutions. These include Northwell Health clinics and our vital partnerships with Feinstein Institute for Medical Research and Cold Spring Harbor Laboratory.
At the Zucker School of Medicine, students have the opportunity to choose from many different types of basic, translation, and clinical research projects. Short-term and longitudinal investigations cover a variety of topics and issues in medicine, including (but not limited to):
Immunology
Community health
Medical education
Medical humanities
Bioelectric medicine
Neuroscience
Cancer biology
Genetics
Quality Improvement
Sample Past Research at the Zucker School of Medicine
Sample Past Research at Zucker School of Medicine
Age-associated Changes in Stress and Inflammatory Responses in Experimental Cardiac Hypertrophy
Liver Transplantation Outcomes in Recipients with MELD Scores > 40
Evaluation of Delays in STEMI Interfacility Transports
MMIF and Ischemic Preconditioning of the Heart
Differentiation of Benign and Clinically Worrisome Pneumatosis Intestinalis on Computed Tomography
 Health Education of Migrant Backstretch Workers
 Gender Differences of Systemic Biomarkers Following an Epidural Steroid Injection for Lumbar Disc Disorders
 New insights into brain cholinergic control of the inflammatory reflex
 Repeat Screening for Substance Misuse in Primary Care Settings: Description of Screening, Brief Intervention, and Referral to Treatment for Patients with Multiple Visits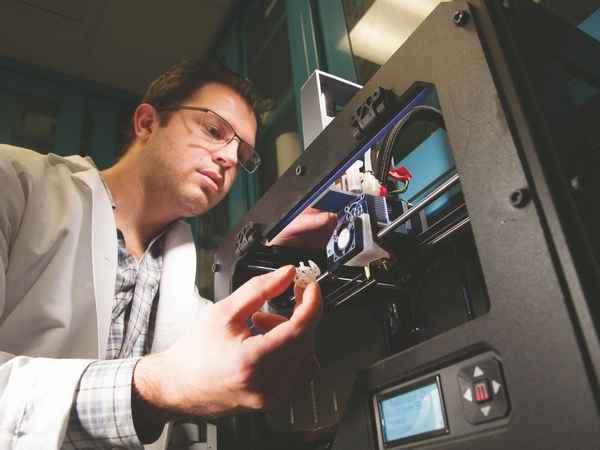 Zucker School of Medicine alumnus, Todd Goldstein, PhD '16 is on the front line of medical research in the use of 3-D printing for organ and tissue repair and replacement. His early research as a student led to the first 3-D printed, amphibious prosthetic leg that gives amputees the ability to enter and exit water without changing prosthetics.
Zucker School of Medicine research program offerings range from singular touch points, such as summer research experiences between the first and second years of training and research blocks in the fourth year, to independent studies in which students take time off to conduct deeper, more sustained research. Students also have the opportunity to take on longitudinal projects they can begin during their summer research experience and revist during selective and elective time in later years.