Mental Health Services
The Office of Student Affairs firmly believes that addressing mental health concerns or receiving care for mental illness is crucial to increasing medical student well-being. The Associate Dean for Student Affairs or Director of Student Affairs can help facilitate student access to a first-time appointment or regular care.
Below are several options for medical student mental healthcare. Student are welcome to discuss which option is the best choice for them with the Associate Dean, Director or contact these parties directly, identifying themselves as a medical student to insure they receive appropriate care and benefits.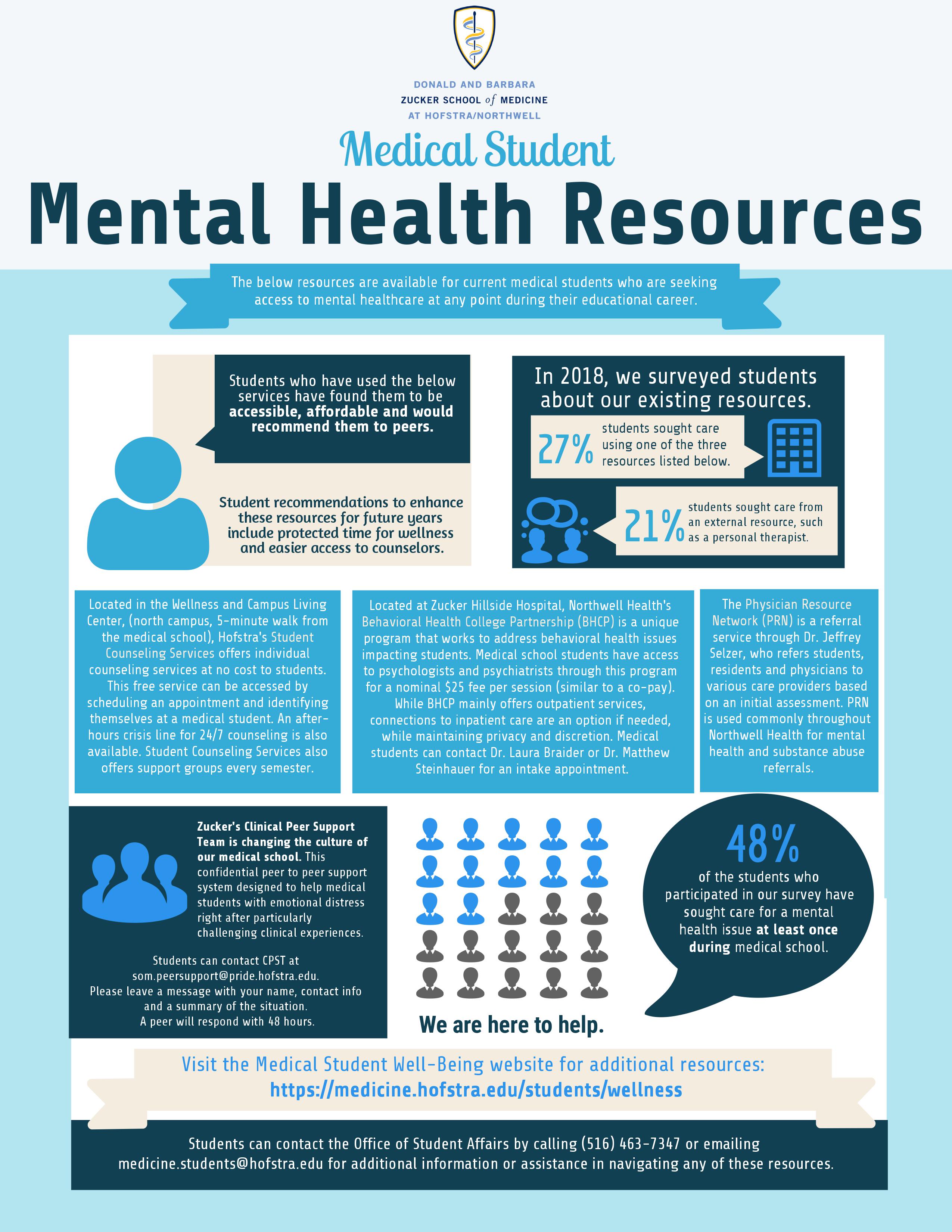 Hofstra Student Counseling Services
Located in the Wellness and Campus Living Center, (north campus, 5-minute walk from the medical school), Student Counseling Services offers individual counseling services at no cost to students. This free service can be accessed by scheduling an appointment and identifying themselves at a medical student. An after-hours crisis line for 24/7 counseling is also available. Student Counseling Services also offers support groups every semester.
Northwell's Behavioral Health College Partnership
Located at Zucker Hillside Hospital, Northwell Health's Behavioral Health College Partnership (BHCP) is a unique program that works to address behavioral health issues impacting undergraduate and graduate students. Medical school students have access to psychologists and psychiatrists through this program for a nominal $25 fee per session (similar to a co-pay). While BHCP mainly offers outpatient services, connections to inpatient care are an option if needed, while maintaining privacy and discretion. Medical students can contact Dr. Laura Braider or Dr. Matthew Steinhauer for an intake appointment.
Physician Resource Network
The Physician Resource Network (PRN) is a referral service through Dr. Jeffrey Selzer, who refers students, residents and physicians to various care providers based on an initial assessment. PRN is used commonly throughout Northwell Health for mental health and substance abuse referrals.
CPST is a confidential peer to peer support system designed to help medical students with emotional distress right after particularly challenging clinical experiences. Students can contact us at som.peersupport@pride.hofstra.edu. Please leave a message with your name, contact info and a summary of the situation. A peer will respond with 72 hours.
Several external mental health care resources exist outside of the Zucker School of Medicine. Student are welcome to find a provider through their personal health insurance plan by using these tips as a starting point. In addition, Long Island has a variety of local organizations that can refer students to support groups, individual providers or 24/7 hotline assistance.