Welcome from Dean, Lawrence G. Smith, MD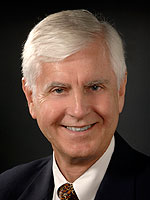 Welcome to the Hofstra Northwell School of Medicine.
The start of the academic year is truly one of my favorite times to be at the School of Medicine, as we look forward to what is possible. Whether you are a current student, prospective student, educator, or community member, I hope you share my enthusiasm for what lies ahead.

In August, we welcomed the Class of 2020, a diverse group of individuals comprised of 54 men and 45 women from across 16 states and different walks of life. Like all classes, our latest arrivals have brought with them an exhilarating sense of promise, perspective, and potential. This infectious sense of determination and excitement is what drives our faculty, mentors, and staff to resolutely guide each new journey from person to professional—starting day one, through to graduation, and well beyond. 

At the School of Medicine, we understand that teaching tomorrow's doctors is both a tremendous responsibility and an extraordinary opportunity. It is why we remain committed to our ongoing and successful mission to revolutionize the model of educating the next generation of physicians for the advancement of healthcare, scientific research, and medicine.