CQI Workgroup Results
As our CQI workgroups are executing steps behind the scenes, we want to ensure we have a way to keep our community up to date on the status of our initiatives. We have a few different mediums that will share exciting updates:
Social Media: Twitter, Instagram, LinkedIn, and Facebook will all be home to our new CQI social media campaign "Zucker Med in Motion". Follow #ZSOMinMotion for updates!
Email Communication: Class emails, Student Council announcements, Curriculum Support emails, Med School Minute
Syllabus: At the start of a course, check the syllabus for any changes that were a result of student feedback.
Website: Below are tabs that contain updates by category. Take a look at what we have accomplished so far and be sure to check back often!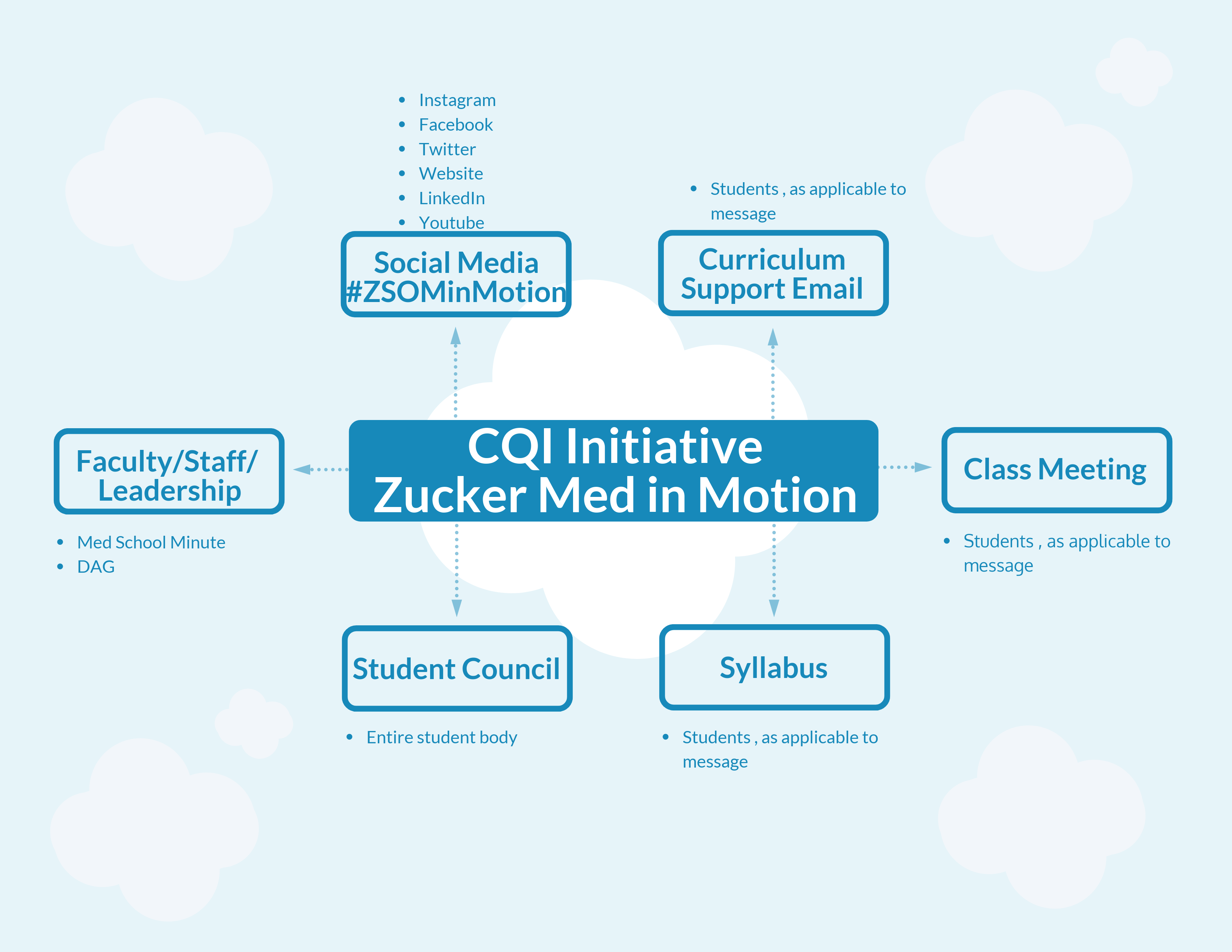 The ambulance run requirement post CPR has been eliminated!
ICE has rolled out new initiatives to aid in preceptor development:
We're collaborating with other medical schools to develop podcasts, the first of which will focus on providing feedback.
Preceptors will now be given access to "Just in Time Teaching (JITT)," a program that provides nuggets of faculty development in an easily accessible, cell phone-friendly format.
Physical Diagnosis (PD) leadership:
Has established PD families to engage students in continuity relationships with peers and faculty facilitating longitudinal teaching and feedback.
Will continue to add to the number of clinical skills exercises to allow additional practice and will continue to explore the possibility of adding SOM PD faculty to second year PD sessions to lend content and process expertise.
Curriculum Support has:
created and implemented a randomized clerkship site lottery in one45 that will allow assignments in academic year 2019-20 to be released 12 weeks prior to start of the MS3 academic year.
worked with the departments to have the on-call schedule released by trimester (comprised of two clerkship cycles) 16 days prior to the first clerkship and approximately 41 days prior to the second clerkship.
redesigned the Handouts and Links section of one45 to expand and centralize key documents, that will enable students to find what they need with more ease and efficiency.
worked with the departments to provide reporting locations and additional scheduling details, approximately 10 days in advance of the start of an Acting Internship, whenever possible.
Our goal is for students to have all of their questions answered related to grading.  In order to accomplish this, in the MS 3 year the following changes have been made:
We overhauled "handouts and links" in One45 to include

direct

access to all assessment forms and more
We updated the grading FAQs to answer all questions posed to us about how grades are calculated. These are found on the main Second 100 Weeks "handouts and links" in One45 and on the Assessment page of ZSOM website.  
We continue to provide an opportunity to meet with ACE Co-directors after grades come out.
We are launching a more extensive orientation to grading through the Transitions ACE Go! and Cycle 1 mid-cycle check-ins with ACE Co-directors.
We encourage students to ask any questions about assessment to somassessment@hofstra.edu
Check back soon for updates!
The Office of Career Advisement (OCA) has undergone several changes this year. We will continue to build out our resources based on feedback and advising experiences.
Overhaul of OCA website (includes additional resources including an extensive FAQ list, pages specific to your year).
Small group advising for with Career Advisors and targeted sessions around elective advisement for MS4s have been implemented.
Services for MS1s and MS2s have increased with the addition of sessions for students to explore specialty choice through the Careers in Medicine assessments.
Each Career Advisor is working with Departmental Advisors to form specialty specific resources that address variability between specialties.
Did you know that every medical student has access to additional resources offered by the AAMC? By logging into the Careers in Medicine portal, students can access advising tools for all four years of medical school. Use the same user name and password you created to sign up for the MCAT® exam, AMCAS®, and other AAMC services.
---
We are working to identify additional Global Health opportunities that students can participate in.
The Center of Global Health was introduced to ZSOM this spring and Dr. Eric Cioe-Peña was recently named Director and the faculty mentor of the student Global Health Club. His office will build upon the existing global health opportunities at Northwell and are available to connect students with an appropriate program
---
The Office of Student Affairs acts as a liaison between school administration and the student body and has made the following changes to how they communicate with the community at large:
Annual class meeting schedule is now available on the SA website.
Upcoming student events are in the staff newsletter.
Increased efforts have been made to invite faculty and staff to more student events.
Revamped the weekly newsletter.
ZSOM has launched a campaign to ensure changes based on student feedback are regularly communicated! Follow #ZSOMinMotion or check-out the weekly Student Affairs newsletter to stay updated.
---
Our student body is actively engaged in programs outside of the classroom, hosting over 200 events in the past year. To help support these activities:
A new Administrative Assistant of Student Affairs, Jully Lopez, was hired in June 2018 to support minor event programming.
A Program Coordinator for Student Leadership and Engagement, Georgia Liniaris, has been hired and is responsible for supporting student events and developing a leadership program for medical students. She can be reached at medicine.students@hofstra.edu
---
Medical student well-being is the utmost importance to a student's success in medical school and beyond. Over the past year, the Office of Student Affairs (OSA) has worked with the student Wellness Committee to make improvements to well-being resources.
OSA created and launched a section of the website dedicated to Medical Student Well-Being. This comprehensive website includes our public statement of commitment, a list of public mental health resources, instructions on how to navigate access to these resources, contact information, definitions of our seven dimensions of well-being, offices supporting each dimension, and more!
Mandatory wellness sessions have been implemented into the Second 100 Weeks curriculum.
Students are encouraged to evaluate their well-being regularly, building upon reflective skills within the curriculum. A free evaluation tool is available for medical students on our website under the "Measuring Your Well-Being" section.
---
Student Council has seen incredible growth in student programming and leadership positions over the past few years and has expanded many of its committee positions to better serve the student body and surrounding communities:
New & Prospective Students Committee: two new positions focused on recruitment and retention of underrepresented minorities applicants.
Social Committee co-chair positions: one for F100W & one for S100W.
---
Creating a culture of peer support is a crucial aspect of the Zucker School of Medicine:
Student Council has developed a mentoring program for first year medical students to assist with the transition to medical school. This program has increased with the support of the New & Prospective Student Committee and additional programs over the first year.
A new mentoring program, co-sponsored by the Office of Diversity & Inclusion and out student OUTmed group, started this past year. Northwell physicians and administrators are paired with students interested in developing a mentoring relationship during medical school and includes events such as a mentoring mixer, attending the NYC Pride Parade and co-sponsored events with the student AMWA group.
Check back soon for updates!