In the spirit of the Zucker School of Medicine's value of Humanism, the Office of Student Affairs firmly believes in the continued development of the whole person during medical school. The goals of the Medical Student Well-Being Program are:
to support medical students in defining individual well-being,
to encourage the use of self-reflection, which can help identify a decreased sense of well-being,
to connect students to existing resources for all dimensions and,
to develop foundational skills which medical students can use to enhance their well-being as physicians.
As part of the National Academic of Medicine's Action Collaborative on Clinician Well-Being and Resilience and the Association of American Medical College's commitment to Well-Being in Academic Medicine, the Zucker School of Medicine has developed curricular and co-curricular programs that align with the Seven Dimensions of Medical Student Well-Being. Led by the Office of Student Affairs, several departments within the Zucker School of Medicine, Hofstra University and Northwell Health collaborate to support efforts around medical student well-being. The Office of Student Affairs encourages students to use the AAMC's Medical Student Well-Being Webpage as a resource, as well as the resources listed on this site.
Image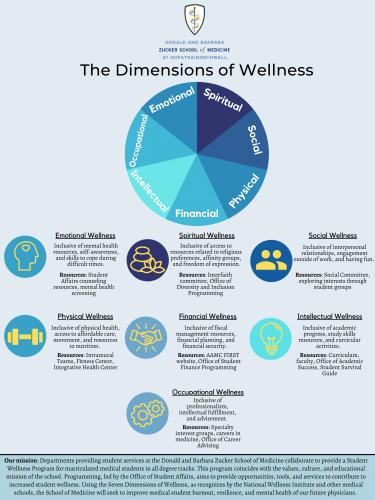 Image