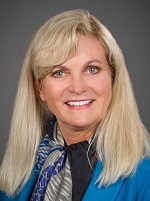 Cindy L. Grines, MD
Chair & Professor, Department of Cardiology
Zucker School of Medicine
As chair of cardiology for the Donald and Barbara Zucker School of Medicine at Hofstra/Northwell, Cindy L. Grines, MD, is responsible for developing world-class cardiology research and education programs, and implementing them across Northwell Health. She also performs interventions and catheterizations at the Sandra Atlas Bass Heart Hospital at North Shore University Hospital.
One of the nation's preeminent cardiologists, Dr. Grines is a renowned researcher who pioneered primary percutaneous coronary intervention (PCI) for heart attacks. She has a long history of research, publications and clinical trial design with more than 400 publications, numerous book chapters and review chapters.
Prior to joining Northwell, Dr. Grines was vice president of academic and clinical affairs at Detroit Medical Center's Heart Hospital. Dr. Grines holds a medical degree from Ohio State University. She completed her cardiology fellowship at the University of Michigan then served as director of interventional cardiology at the University of Kentucky before becoming director of the cardiac catheterization laboratory and vice chief of cardiovascular medicine at Beaumont Hospital in Michigan. She has designed and led numerous landmark research studies and is best known for the PAMI (primary angioplasty in myocardial infarction) trials where she determined primary angioplasty improved outcomes for heart attack patients compared to fibrinolytic therapy.
Recognized as one of the "Best Doctors in America," Dr. Grines serves on the editorial boards of several major journals, nationally and internationally, and she has co-edited several medical handbooks. She is editor-in-chief of the Journal of Interventional Cardiology. She has received numerous awards, including in 2016, the Alumni Achievement Award from the Ohio State University College of Medicine, the Annual Scientific Sessions (SCAI) – Luminary in Interventional Cardiology award, Detroit Medical Center Physician Difference Maker Award, and in 2017, she received the American College of Cardiology Distinguished Mentor Award.