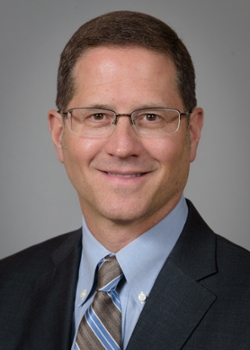 Jeffrey Kuvin, MD
Chair, Department of Cardiology
Zucker School of Medicine  
Jeffrey T. Kuvin, MD is the Chair of the Department of Cardiology at the Zucker School of Medicine at Hofstra/Northwell, Chief of Cardiology at North Shore University and Long Island Jewish Hospitals, Co-Director of the Sandra Atlas Bass Heart Hospital at North Shore University Hospital, and Senior Vice President of Cardiology at Northwell Health. Prior to his arrival to Northwell, Dr. Kuvin was Chief of Cardiovascular Medicine at Dartmouth-Hitchcock Medical Center and Professor of Medicine at the Geisel School of Medicine at Dartmouth. While at Dartmouth, he was instrumental in attracting key faculty recruits, building clinical efficiencies, developing new programs, and expanding regional cardiovascular care.
Clinically, Dr. Kuvin focuses on preventive cardiology, cardiovascular imaging, and adults with congenital heart disease. His research interests focus on the impact of cardiovascular risk factors on vasomotor function. He has contributed to the literature in the fields of vascular function, echocardiography, preventive cardiology, and education. Dr. Kuvin was honored with the Career Award for Teaching at Tufts Medical Center and was inducted into the Geisel Academy of Master Educators at Dartmouth.
 
At the American College of Cardiology (ACC), Dr. Kuvin is Chair of the Lifelong Learning Oversight Committee which oversees all of ACC's educational offerings. He was the Chair (2017, 2018) and Vice-Chair (2015, 2016) of ACC's Annual Scientific Sessions. Dr. Kuvin was the lead developer and first Chair of the ACC fellowship In-training Examination and is the current Editor of ACC's General Cardiology Self-Assessment Program (ACCSAP). Dr. Kuvin was recently elected to the ACC Board of Trustees.
Dr. Kuvin received his undergraduate degree in Near East and North African Studies at the University of Michigan, where he was a member of the varsity swimming team and a silver medalist at the 1985 World Maccabiah Games. Dr. Kuvin received his medical degree from Emory University and was an internal medicine house officer, chief medical resident, and cardiology fellow at Tufts-New England Medical Center in Boston. He joined the cardiology staff at Tufts Medical Center in 1999, and in 2016, rose to Professor of Medicine at Tufts University School of Medicine. At Tufts, Dr. Kuvin was the Associate Chief of Cardiology, Director of Cardiovascular Education and Fellowship Training, Director of Quality Improvement and Outcome Measures, and in 2011, became the Associate Chief Medical Officer for Graduate Medical Education providing oversight to all training programs.