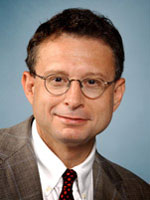 Alan Hartman, MD
Chair, Department of Cardiovascular and Thoracic Surgery
Zucker School of Medicine  
Dr. Hartman joined Northwell Health in 2002 as the Chairman of the Department of Cardiovascular and Thoracic Surgery.  He obtained his medical degree from Mount Sinai School of Medicine, where he received the Alpha Omega Alpha Award.  Prior to that, he graduated Summa Cum Laude from the University of Rochester.
His post-graduate medical training included a residency in general surgery and a fellowship in cardiothoracic surgery at the prestigious NYU School of Medicine under the leadership of Dr. Frank Spencer.  After completing his fellowship program, he joined the faculty at SUNY Stony Brook where he remained for ten years and was appointed Chief of the Division of Cardiovascular Surgery.  From 1996 until 2002, Dr. Hartman entered private practice at Winthrop University Hospital, where he remained until being appointed Chairman of the Department of Cardiovascular and Thoracic Surgery at North Shore University Hospital in 2002.  Board certified by the American Board of Surgery and the American Board of Thoracic Surgery, Dr. Hartman also holds the title of Clinical Associate Professor at the NYU Department of Cardiothoracic Surgery.  His clinical interests include aortic aneurysm, pulmonary embolectomy, valve repair, minimally invasive surgery, coronary bypass surgery and mechanical assist devices.